Welcome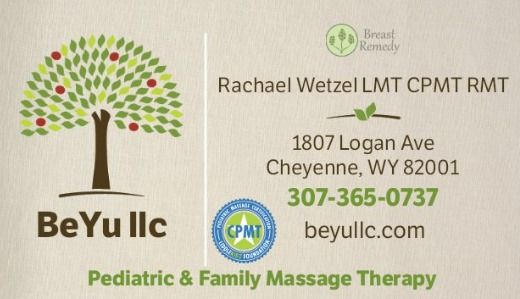 Welcome to BeYu llc Pediatric & Family Massage.
Update 11/13/2020
As our pandemic continues to evolve, I have been keeping a close eye on how things have progressed. We currently have 1,120 active cases. The number is rising daily. DO NOT COME IN if you are exhibiting any COVID symptoms or have been around anyone who is a probable cause or has tested positive in the last 14 days. There are many children and pregnant women, as well as frail and elderly who receive services here. Please consider the health and well being of others. Thank you.
We are now asking anyone who has traveled outside of Cheyenne to please use discretion when scheduling your massage appointments. If you have any questions or hesitations, please wait to come in until you feel safe doing so. It's better to be safe than sorry. We know this is a virus and it will be with us for the foreseeable future. I will continue to take every step to ensure your risk is minimal when receiving services at BeYu llc.
We will update as things change. You can be confident that I am closely monitoring the situation and taking every precaution to ensure your safety. I am not taking any chances or risks with your health and your life.
As before, if you are exhibiting symptoms or have been around anyone exhibiting symptoms, please reschedule your appointment.
(Click the ACTIVE CASES link to Laramie County Health Department for updated numbers)
I look forward to visiting with you on how massage can help your child with overall growth and development. Please look at the Pediatric section on this website and also the Links section for information on research studies conducted on Pediatric Massage therapy. Pediatric Massage is NOT the same as traditional massage. Pediatric Massage is geared toward undeveloped muscle and bone and joint. Pediatric Massage is also different than Infant Massage. It is a good idea to make sure that any massage therapist offering Infant and Pediatric massage has been trained in that modality. BeYu llc welcomes children ages 2 and up. Pediatric services are tailored to the needs of each child and takes into consideration the mental age of the person.
As well as Pediatrics, BeYu llc also offers specialized techniques such as breast massage and targeted therapy for hands, wrists, and forearm (including Carpal Tunnel and Cubital Tunnel). Those with post-surgical issues and oncology needs will find well-informed and educated therapist(s) that are dedicated to helping you achieve maximum results from your session. I look forward to visiting with you about your specific needs and how massage can help you.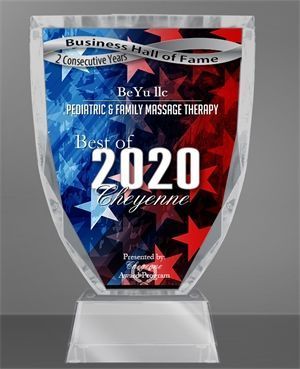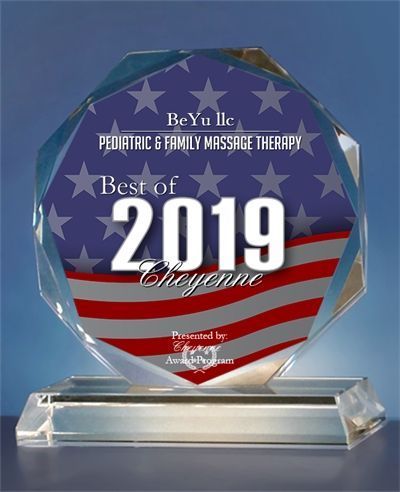 Announcements & Updates
We are moving in November! BeYu llc began at this Logan Ave location nearly 4 years ago. With the change in management and the death of the owner and the upcoming sale of the building, there is no place left here for BeYu llc. The good news is, I have found our new location on the North Side and it is phenomenal! I am certain you will love the new location even more! Look for updates on our grand re-opening at the new location in November!!!
Covid has effected us all. As many have undertaken alternate roles that change their lives, I have made the choice to utilize virtual school. For that reason, I will be modifying my hours to accomodate this. I will be available for appointments Monday evenings, starting at 3pm and Thursday, Friday, Saturdays from 10-7. I look forward to working with you and finding a schedule of treatments that will work for you and your schedule.
Be sure to subscribe to our email list by clicking this link to get important updates, specials & coupons!
Valuable Offers at BeYu llc.
Focusing on YOU!
Please feel free to call, text, or email with any questions. I hope that you will find these packages both a helpful and valuable part of your self-care routine.
Prenatal Package $660 (In-office price)
A package to see you throughout your entire pregnancy. Starting at your third month, come in for a 60-minute session, also the fourth, fifth, sixth and seventh month. On your eight and ninth months come in every 2 weeks. Come in once a month after your baby is born for 3 months. This package covers the entire pregnancy period. A total of 12 60-minute sessions. (All sessions must be used by 3 months postpartum).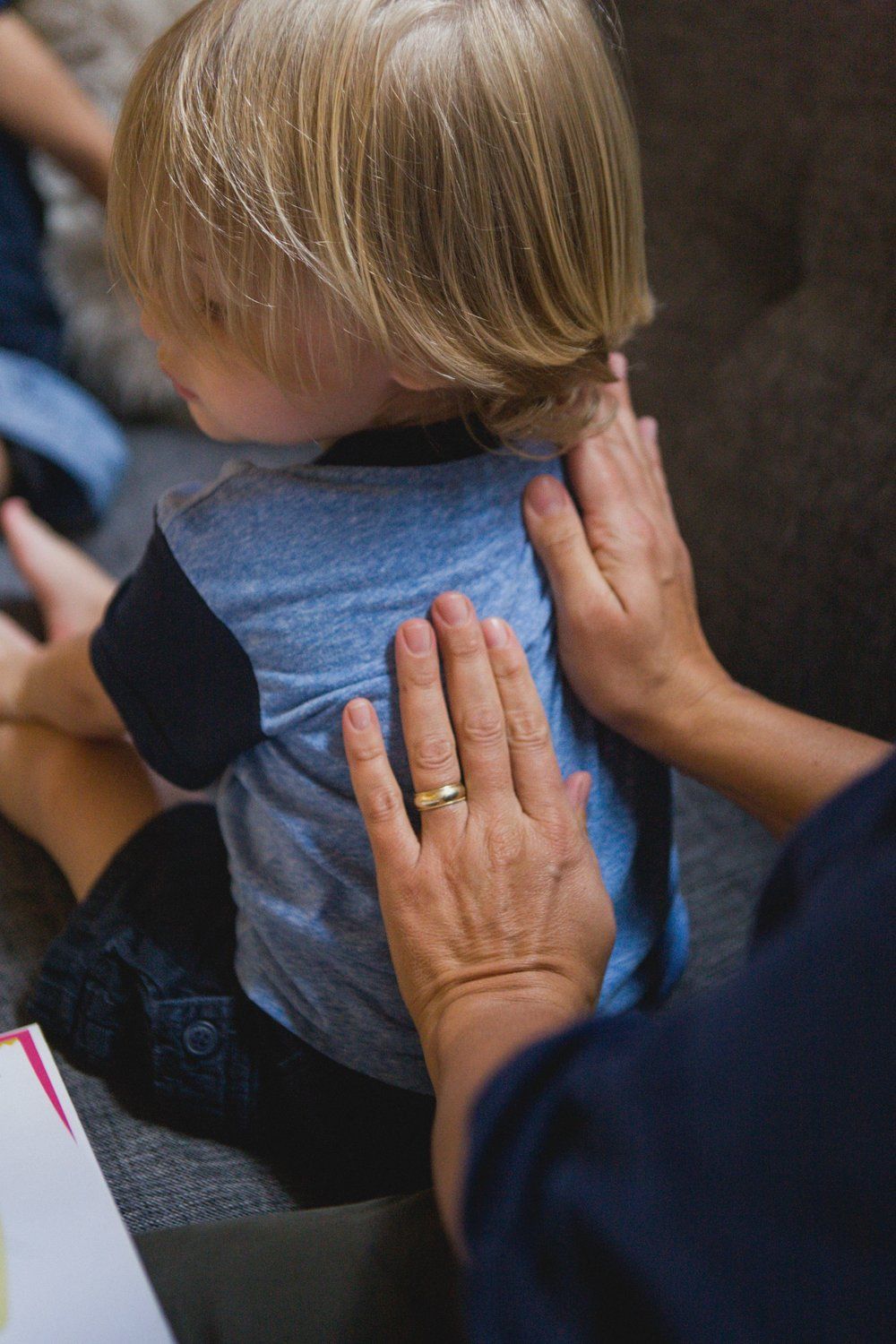 Pediatric Massage (In office price)
Includes THREE 30-minute sessions. $105
The best way to give Pediatric massage an honest try for your child. See what it is, and find out if it's a healthy alternative in the development and health care needs for your child.
SILVER Package $390 (In office price)
Includes SIX 60-minute sessions. All modalities included + free add-ons (cbd oil not included). Take up to a year to redeem. Save $30 or more off regular prices.
Diamond Package $720
Includes TWELVE 60-minute sessions. All modalities included (excludes CBD oil). Save $120 or more off regular prices. Take up to a year to redeem. All modalities included + free add-ons.
Platinum Package $510 (In office price)
Includes SIX 90-minute sessions. Take up to a year to redeem. All modalities included (excludes CBD oil). Save $120 or more off regular prices.
Executive Package $960
Includes TWELVE 90-minute sessions. All modalities included + free add-ons (CBD Oil not included). Take up to a year to redeem. Save $300 or more off regular prices.
Packages cannot be split up with individual sessions gifted to another person, however, whole packages may be gifted to a single person. See specific package for expiration. All modalities included: Therapeutic Massage, Swedish, Spa Wraps, Gua Sha, Healing Energy.
Previous sessions cannot be used towards the purchase of package deals.
Coupons and discounts: Birthday and referral coupons can be used toward the purchase of packages.
Thank you for choosing BeYu llc!
Order Avon here
Order DoTerra here
Order Lume here